After months and months of nothing but seemingly continuous leaks, Google has finally formally unveiled the Pixel 3 and 3 XL. The devices serve as successors to last year's Pixel 2 and 2 XL and carry all the traits you'd find in a 2018 flagship. Of course, we basically already knew everything there was to know about both phones leading up to their unveiling today, but in case you haven't been caught up to speed, here's what you need to know about each handset.
Design
The designs of the Pixel 3 and 3 XL don't stray too far away from their predecessors. Google's using a similar two-tone approach to the backplate of each phone, with the area surrounding the camera being a bit brighter in tone when compared to the rest of the build.
For this generation, Google opted for a glass-covered look which will either attract or ward off potential buyers, depending on where you stand. Luckily, this enables wireless charging for the first time on a Pixel device which helps in a world that's continuously ridding wires from the draws of millions of phone buyers.
The right side of the Pixel 3 and 3 XL houses the volume and power buttons, while the bottom has a USB-C port. There are also microphones scattered around the edges of the phones for voice pickup.
Screens
Okay, this is where things get interesting. For the standard Pixel 3, Google is using a 5.5-inch 18:9 display with an OLED panel and a resolution of 2280×1080. Meanwhile, the larger Pixel 3 XL packs a display that measures in at 6.3-inches and has a resolution of 2960×1440. It also includes an OLED panel and a 19:9 aspect ratio.
Speaking more on the latter, the 3 XL's display features a pretty sizeable notch up at the top. It's not too wide or anything, but it's way taller than what we're used to seeing on other devices. It's unclear just how distracting the cut-out could become over time, but when we get some time with the phone, we'll let you know.
Audio
Part of the reason why the notch is so large is because of the stereo speakers on the fronts of both the 3 and 3 XL. Google included the feature on last year's Pixel and decided to carry it over to this generation which features 40 percent better sound. And thank God, because it sort of compensates for the lack of a headphone jack on both models. Sure, they add extra bezels that aren't necessary in this day and age, but they could prove to be worth it if the speakers sound decent enough.
Specs
Under the hood, Google is including all the 2018 specs you'd expect to find with the Pixel 3 and 3 XL: a Snapdragon 845 processor, 4GB of RAM, an Adreno 630 GPU, and up to 128GB of storage. You're also getting 802.11ac Wi-Fi, Bluetooth 5.0, a fingerprint scanner (no facial scanning here, folks), fast charging, and more.
Software
As far as software goes, you're getting the normal Google experience with the new Pixels thanks to the company's clean build of Android 9 Pie. Out of the box, you have gesture navigation enabled along with the system's Digital Wellbeing features, new battery optimizations, and overall better performance. There's also an updated UI on board.
Of course, Google can't go a year without introducing some Pixel 3-exclusive features first. New for this year is the Pixel Stand wireless charging dock that enables a new, much simpler interface on the Pixel 3 when the phone's docked. It essentially turns either device into a Smart Display of sorts. You'll be able to get all of your information in a simplified UI and interact with the Assistant through voice commands. It'll be sold separately from the Pixel 3 and be included for free in some retailer's promotions.
The Pixel 3 can also help to avoid spam callers. With Google's latest phones and a software update for the Pixel 2 and 1, you'll be able to tap "Screen call" when a call comes up on your phone from a caller you don't know. You'll then be able to see a transcript of what the caller is saying and mark it as spam so they don't call back. This sounds like a super useful feature I'm sure many people will take advantage of.
Cameras
A quintessential part of Google's Pixel phones has always been the camera, with last year's devices reigning for many as the leader in smartphone photography. This year, Google looks to improve things even more with the Pixel 3 and 3 XL's new setup of sensors.
For starters, there's a new 12.2MP shooter on the back, while the front houses two cameras: one standard 8MP sensor and a secondary wide-angle 8MP lens for fitting more of the scene behind you into a selfie. As always, the company has a ton in store for each camera so let's break it all down.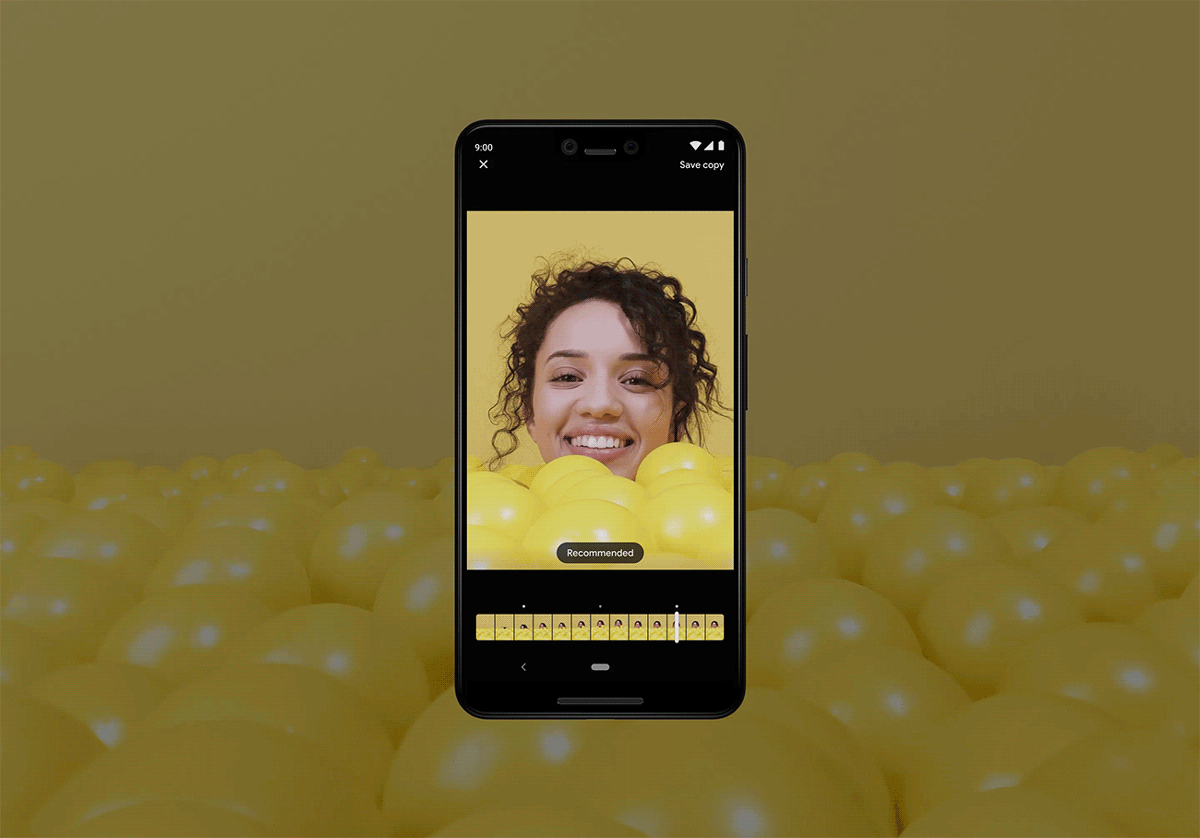 Up first is a feature called Top Shot. According to Google, it provides users with a way to capture the best photo possible when tapping the shutter button. Instead of capturing only one frame when taking a photo, the Pixel 3 will capture multiple frames before and after hitting the shutter button. The company's machine learning will then select the best photo to save to your gallery. It's a great way to ensure you get the best picture if, say, your subject moves and the end result comes out blurry.
The Pixel 3's camera is also getting subject tracking autofocus. When enabled, the feature will automatically track a subject in your field of view so you don't have to keep manually focusing on what you're taking a picture of. There's also a new feature called Super Res Zoom which will capture more detail in a photo and allow zoomed-in photographs to appear less blurry and soft.
But that's not all. The Pixel 3 is also getting Night Sight which boosts up shadows and dark areas in nighttime photography. The feature will first make its way to the pixel 3 next month and soon roll out to Pixel 2 and 1 as well.
In addition, AR Stickers are now known as Playground, Photobooth automatically captures photos when it think it's necessary, portrait mode photos are now adjustable, and Google Lens is directly integrated.
Finally, for the front side of the devices, Google is also adding a second lens for wide-angle selfies.
All of the normal Pixel camera features you know and love are also making a return, including face retouching, slow-motion video, panoramas, and Motion Photos. Of course, the quality of the cameras remains to be seen. But when we spend some time with the phone(s), we'll report back with whether they offer a good upgrade over the Pixel 2.
Battery
Sealed inside the Pixel 3 is a 2,915mAh battery while the Pixel 3 XL gets a larger 3,430mAh cell. Both can be charged over Qualcomm Quick Charge through the USB-C port. In addition, new for this year's Pixels is wireless charging with Qi-enabled charging pads.
Pricing and Availability
Google says the Pixel 3 will start at $799 and the 3 XL will go for $899. They'll both launch on October 18th. Meanwhile, the Pixel Stand will cost $79. Preorders for the devices are open today at store.google.com.